MaxView is the new generation package from SAMx. MaxView teams up with the SAMx EDS software IDFix, making of those two programs a complete ED/Imaging package.
MaxView user interface has the look and feel of IDFix and has been designed to cover all SEM applications.


Features
Signals
· Two video inputs (SE, BSE, ABS, ...) and 15 X-ray signals.
· Computer controlled brightness, contrast and SEM control signals.
Acquisition
· Image size from 64 to 2048 pixels.
· Programmable dwell time per pixel and number of video readings per pixel.
· Live or one sweep acquisition function.
· Many files formats supported : TIFF, BMP, JPEG, GIF, TGA, PNG, WMF.
· Display size independent from acquisition size.
· Thumbnails available.
· Programmable zoom 1 to 10.
· Cursor on image with an optional simultaneous control of the beam.
· Programmable Micron Marker with display of Acc. Voltage, Mag and Beam Current.
Measures

· Interactive distance between two points.

· Angle between two directions.

· Non regular drawing of an area with calculation of the % area and average pixel value.
Image processing
· Geometric transformations (flip, reverse, rotation).
· Various filters (median, sharpen, smooth, edge enhance).
· Histogram manipulation and equalization.
· Thresholding of images.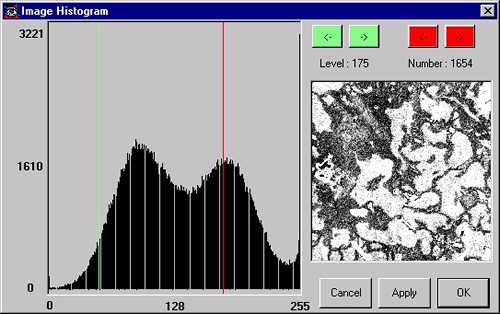 Database

· Microsoft ACCESS file format.

· Add/suppress images.

· Image gallery.

· Possibility to sort the database.

· Possibility to query the database (SQL language).